AFFORDABLE

PRICES

FRIENDLY

& TIDY

WORK

GUARANTEED

LATEST

TECHNOLOGY

Transform your lovely wooden floors in Sydenham
​​​​​It's easy to take your natural wooden floors for granted.
As the floor surface still unsurpassed for durability, ease of maintenance and natural beauty, they continue to enhance homes, shops, schools, offices, bars, restaurants and galleries.
On a product subjected to the effects of feet and time, decline can be slow but insidious. So don't allow them to look shabby or bear unsightly marks or damage a day longer.
Have your floors transformed with sanding and sealing from a specialist company.
Floor Sanding Sydenham SE26 are your choice for wooden floor repairs.
From hardwood or engineered boards to herringbone or parquet blocks, we'll prepare your floors for good looks, hard wear - or both:
- repairs and replacement of damaged timber
- sanding away old paint and sealant to smooth bare wood
- staining to match your decor. Try a darker or lighter shade, such as the fresh pale wash of grey or Scandinavian white.
- resealing with fresh natural oil, hard wax or lacquer.
Don't worry about mess and disruption. The spread of dust will be minimal with the collection system of our sanding machines. And inconvenience and closure will be brief - we can work flexibly around your schedule at weekends or even overnight.

So call us today for your free assessment. You will receive the best advice from a company who have sanded hundreds of floors over the past twenty years.

And enjoy a beautiful new floor completed to the highest level of workmanship.
Floor Sanding Sydenham - for your new floors.
STEP BACK INTO OLD SYDENHAM
The area was well wooded and its timber favoured for the building of Elizabethan fighting ships. It was known as 'The Forest' until the end of the 18th century. It had a brief period of fashionable popularity when medicinal waters were discovered (in what is now Wells Park). The spread of suburbia and the railways (following the course of the short-lived Croydon canal) swept away the charms of the countryside.
Sydenham appeared the ideal choice for the erection of the Crystal Palace when the Great Exhibition of 1851 ended. This splendid building with its 25 acres of glass held magnificent concerts until the fire of 1936 - perhaps the most astonishing funeral pyre ever seen in England.
Latest News, Recommended Articles & Tips
Refinishing a century old hardwood floor
If you own a period property, then the chances are you have beautiful old hardwood floorboards and you'll want to restore them to bring them back to life. It's a job you can tackle yourself, but you'll need to proceed with care to preserve the character and the charm of your floor.

Assess your floor

Before you take any course of action, you'll need to do an in-depth visual inspection of the floorboards to assess whether they're worth refinishing. Superficial damage can usually be removed by floor sanding and finishing, but if there are signs of deeper damage including discolouration and staining, or floorboards not lying flat then you'll need to seek expert advice. If you notice that the edges of the floorboards are thin or cracked, you may not be able to refinish them at all so it's worth consulting a floor sanding professional.

Fill, sand and finish

If your century-old floorboards are good candidates for sanding and finishing, then you'll need to prepare them as you would for any floor: search for nails and countersink them and fill any gaps between the floorboards in the most sympathetic manner. Remember that a hundred or so years of fluctuations in humidity are bound to have taken their toll, so be gentle when you make your repairs.

When it comes to sanding, you need to take the same amount of care. After all, a belt sander may rip through the finish more quickly but it can also damage old boards in a few minutes. If you're uncertain about the condition of your floorboards, then a chemical stripper followed by a light sand with an orbital sander will significantly reduce the risk of damage.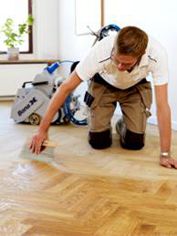 Finally, to preserve the antique patina of your floorboards you may prefer to apply an oil rather than a polyurethane. Although poly is tough, it can also create a plasticised finish which is quite wrong for older floorboards. Using oil will nourish and protect the wood from within and create a sympathetic and natural finish.

Try a screen and refinish

If the floorboards are too damaged to be sanded and refinished, try keying the old finish using a technique called a screen and refinish. This will allow you to apply a new layer of finish over your floorboards without stripping them back to the raw wood. However, be aware that this technique is only suitable if your floorboards aren't in need of major repair.